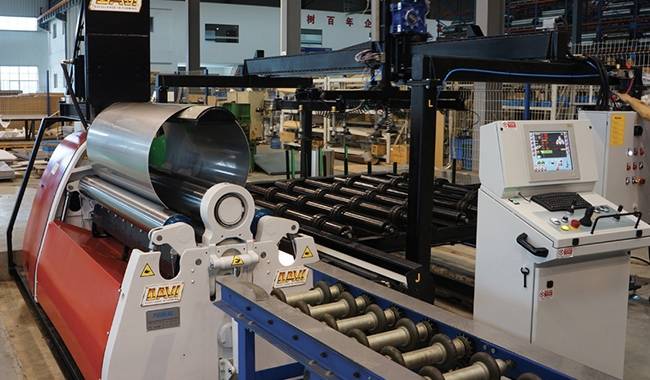 Metal sheet rolling
We offer metal sheet rolling using CNC hydraulic plate bending rolls MCB 3022 by Italy-based Davi Promau.
It is the latest generation foul-roll metal sheet bending roll machine. Owing to machine geometry and related horizontal pre-bend, only very short flat end is achieved in the end of the rolled metal sheet.
The machine features easy metal sheet feeding right on the rear, i.e., bending roll, the metal sheet is rolled in one pass, including pre-bending of both ends. This the only type of plate bending rolls providing maximum accuracy because the metal sheet is under continuous control, firmly attached between upper and lower roll.
| | |
| --- | --- |
| Working length of rolls | 3,100mm |
| Maximum rolled metal sheet thickness | 8mm for standard steel strength up to 400MPa and width 3,000mm |
| Maximum pre-bending | 3,000 x 6mm for standard steel strength up to 400MPa |
| Upper roller diameter | 220mm |
| Lower pressing roller diameter | 200mm |
| Minimum metal sheet rolling diameter | 245mm for standard steel strength up to 400MPa |
| Rolling speed | 5m/min. |
| Cone rolling | yes |